What We Do
The Dayton Christian Athletic Booster Club provides financial and volunteer support for all of Dayton Christian athletic programs (grades 7-12). We seek to encourage a closer relationship between the students, parents, coaches, and school administration to promote our athletic programs and help them be successful.
The Mission of the Dayton Christian Athletic Hall of Fame is to honor, preserve, and perpetuate the names, deeds, and records of those athletes, teams, coaches, and contributors who, by achievement or service have brought lasting impact and honor to themselves, their school and to the cause of Christ through their outstanding accomplishments.
Criteria for Induction
For Athletes:
10 Years since leaving high school
Lettered as Varsity Athlete
Dayton Christian Alumnus
Required awards or accomplishments (must have at least 2): school record holder, all-conference, all-area, all-state, all-region, all-American)
Nominee must be currently living a lifestyle consistent with Biblical principles and Dayton Christian values
Inductee Criteria
For Coaches:
Does not need to be a Dayton Christian Alumnus
Must have enhanced the Athletic experience for athletes and made a significant impact on the sport, serving as a positive role model through exemplary leadership, and character.
Honors include Conference Coach of the Year, All-Area honors, All-State honors, longevity, etc.
Nominee must be currently living a lifestyle consistent with Biblical principles and Dayton Christian values.
Team Inductee Criteria
For Teams:
10 years since leaving high school
Could include any combination of the following: outstanding record, school record, District Champions, Regional Champions (or reached Regional Championship), State Champions (or reached State Championship), any state recognition for the team.
​
Donate to the Athletic Hall of Fame
Your contribution to the Hall of Fame will allow the Boosters to preserve, honor, and recognize achievements of past athletes, coaches and teams while preserving the history of DC sports for future generations. You can use Venmo ( be sure to designate your funds in the memo line) or use the button below that will allow to donate with credit card.
Donate Now
Booster Membership
Please consider becoming a Booster Member to show your support for DC Athletics. This membership is a donation to the "team behind the team" helping us to provide four $1000 Scholarships to four graduating senior athletes! Exciting Perks to be announced! Purchase your membership in the above link!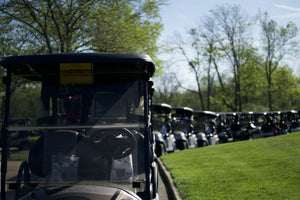 Booster Scholarships
The Dayton Christian Booster Club is pleased to announce the availability of four(4) $1,000 Scholarships to be given to four (4) student athletes.
The objective of the Dayton Christian
Athletic Booster Club Scholarship Program is to: Reward outstanding graduating high school seniors for their athletic, academic, spiritual, and leadership achievements; Provide
financial assistance in order that they may accomplish their future
educational goals; and Assist in developing future leaders. 
In order to qualify for consideration
the applicant must meet the following criteria: 
1.Be a graduating DC high school senior 
2. Have earned or be in the process of earning a varsity letter for any sport at DC 
3.Submit a copy of their college acceptance letter, if available 
4.Submit a list of sports-related leadership activities outside DC; 
5.Submit a 250 word essay on how participating in DC sports has affected their spiritual walk.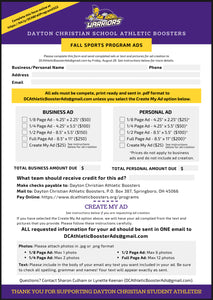 Sports Program Advertisement
Place an advertisement in our Sports program of your business or your favorite DC Athlete.